"How does Houston hope to defeat me? Allied as I am with the imbecile, the contemptible, and the promiscuous fucking insane."
Fiers, Anderson, Bassitt; assign the descriptors to taste.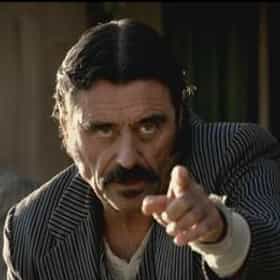 George Hearst The Houston Astros swagger into our one-horse town, foreboding, powerful, a step ahead, holding all the cards.
By which of course I mean: Deadwood returns tonight with a two hour movie, 13 years after David Milch or HBO (pick your villain) cut off the epic series in its prime without warning. Described by one wag like Shakespeare after slamming his dick in a car door, had it been guided to conclusion in a full 5-6-7 season arc, Deadwood might today stand with Breaking Bad among the truly great series.
For the uninitiated…initiate yourselves.
Not without sadness, as the ensuing years have seen David Milch lose his fortune gambling (mostly, ahem, on horses) then develop Alzheimer's, now in its middle stages. This New Yorker piece is as honest a tale of an artist watching his gifts dissapate as you'll find. It says a lot that Ian McShane, Timothy Olyphant, Anna Gunn, William Sanderson, and practically the whole fucking original cast came back together so many years later.
Tell him something pretty.
So maybe we're fucked by the Gods and Sunday finds us dead by sundown, Houston riding a pale horse out of town.
"In life you have to do a lot of things you don't fucking want to do. Many times, that's what the fuck life is… one vile fucking task after another."
"Kraut will get you through times of no money better than money will get you through times of no kraut."